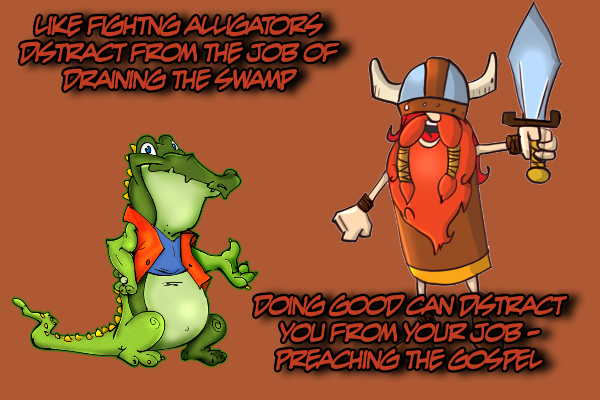 And rising very early in the morning, while it was still dark, he departed and went out to a desolate place, and there he prayed. And Simon and those who were with him searched for him, and they found him and said to him, "Everyone is looking for you." And he said to them, "Let us go on to the next towns, that I may preach there also, for that is why I came out." And he went throughout all Galilee, preaching in their synagogues and casting out demons.
And a leper came to him, imploring him, and kneeling said to him, "If you will, you can make me clean." Moved with pity, he stretched out his hand and touched him and said to him, "I will; be clean." And immediately the leprosy left him, and he was made clean. And Jesus sternly charged him and sent him away at once, and said to him, "See that you say nothing to anyone, but go, show yourself to the priest and offer for your cleansing what Moses commanded, for a proof to them."But he went out and began to talk freely about it, and to spread the news, so that Jesus could no longer openly enter a town, but was out in desolate places, and people were coming to him from every quarter.
Understanding And Applying the Text
Jesus got up early in the morning to pray. Some have said this shows us how we are to pray. We are to pray in the morning. In fact, it should be early in the morning. And we should pray in a place where we are alone.
To make that claim would be to violate the basics of hermeneutics. This is a descriptive text, not a prescriptive text. That is to say, it tells what happened. It is is not telling how to behave. The scripture does contain commands about prayer. For example, pray without ceasing." (1 Thessalonians 5:17). When you pray, go into your room and shut the door and pray to your Father who is in secret. (Matthew 6:6a) This is not a prescriptive text. This is one of the passages that tell us Jesus considered prayer important. He made time for it.
Jesus went to a desolate place. Desolate places are where Jesus fights His spiritual battles. There is a theme throughout this chapter. Jesus demonstrates who He is by heal people. And people start coming to Him so He can heal them or their loved ones.
The healings got in the way of the message. No one was listening to Him. They only wanted a healing. "Jesus do for me what you did for that guy." When that happened, Jesus left to teach somewhere else.
Here everyone is looking for Jesus. To the disciples, this was a sign of success. Everyone is coming to you, Jesus. But Jesus does not capitalize on the so-called success. He leaves. Why? Is not the reason He came, to reach the lost. Well, the lost are coming.
Jesus understood if people came for reasons other than the gospel, they will not hear the gospel. They may sit through it while they wait for "the good stuff." Let's get to the healing Jesus.
Jesus is clear He did not come to heal physical ailments. He came to preach the gospel. (v38) "For the Son of Man came to seek and to save the lost." (Luke 19:10)
You may have heard cynics claim, "Jesus was not kind and loving. If He were, He would heal everyone. That would be the loving thing to do. Instead, He healed only a select few. That is not real love."
They fail to realize the depth of the depravity of the human condition. Jesus did not come to address the symptoms of sin. He came to solve the problem of sin. That is far more loving than what the cynic demands. Healing became a distraction.
The church today is distracted. The church is to make disciples. (Matt 28:19) We often let other things get in our way. We claim the most important thing is to attract people. So we try being attractive. The importance of programs become paramount. Senior's program, children's program, youth programs. Yes, even outreach programs. We often look for someone who "relates" to the group. We should look for a disciple maker. Making disciples is our job.
When Jesus gets to Galilee He again tries to de-emphasize healing. When He heals a leaper He told the leaper to fulfill the requirements of the law but not tell anyone what happened. In fact, Jesus gave Him a stern command not to tell anyone.
The leaper may think He was doing a good thing. He was giving glory to Christ. But he violated Christ's command. He told everyone. We never bring honor to God when we violate His commands.
Like before, everyone came to Jesus for healing. Jesus could not even go into a town without people mobbing Him. Like before, no one listened to Christ's message. All they wanted was a physical healing.