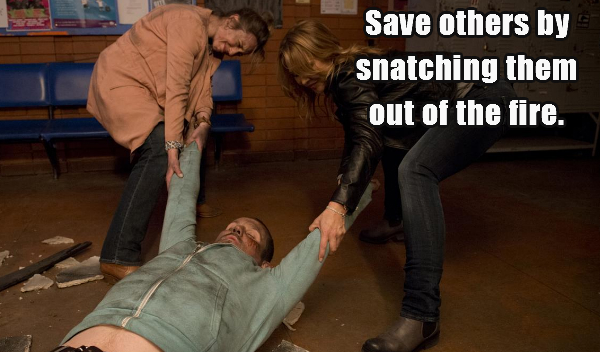 But you must remember, beloved, the predictions of the apostles of our Lord Jesus Christ. They said to you, "In the last time there will be scoffers, following their own ungodly passions." It is these who cause divisions, worldly people, devoid of the Spirit. But you, beloved, building yourselves up in your most holy faith and praying in the Holy Spirit, keep yourselves in the love of God, waiting for the mercy of our Lord Jesus Christ that leads to eternal life. And have mercy on those who doubt; save others by snatching them out of the fire; to others show mercy with fear, hating even the garment stained by the flesh.
Now to him who is able to keep you from stumbling and to present you blameless before the presence of his glory with great joy, to the only God, our Savior, through Jesus Christ our Lord, be glory, majesty, dominion, and authority, before all time and now and forever. Amen.
Observation
We are to remember the teaching of the apostles.
The apostles taught there will be scoffers and those following their own desires.
It is the scoffers and those following their own desires who cause divisions.
The scoffers are worldly
The scoffers do not have the Spirit.
Jude's readers were to keep themselves in God's love.
Building up your faith and praying in the Spirit keeping you in God's love.
It is the mercy of Jesus that leads to eternal life.
We are to have mercy on those who doubt
We are to show mercy with fear.
We are to hate even the garment that is stained by the flesh.
God is able to keep us from stumbling
Jesus is able to present us blameless to the Father.
Jesus presents us to the Father with joy.
Jesus is our savior and our Lord.
Glory be to Jesus
Glory, majesty dominion and authority belong to Jesus now and forever.
Interpretation
Jude reminds us of the what of what the scriptures contain elsewhere. The apostles wrote us that there would be those who profane the God's name. In fact, Jesus Himself told us in Matthew 7:21-23 the there will be He does no know that will use His name. These are the ones Jude refers to as scoffers.
These scoffers have no fear nor reverence to keep them within the limits of duty. They do not fear a future judgment. There is no hope for eternal life.
These scoffers cause division within the church by separating themselves from the church. They could not bear the burden of discipline. They indulged in their own desires of the flesh. They despise spiritual life.
Jude shows how we are to overcome Satan and the attack for the scoffers. We are to connect love and faith. Contending for the faith means more than opposing false teachers with words. Contending for the faith involves a positive life that is faithful to the gospel.
Jude teaches us that to increase our faith we must be in prayer and maintain our calling by love. Jude has made love the guardian and ruler of our life. He is not setting it in opposition to God's grace. He is only pointing out how we progress in our Christian life. That is through love.
Jude would not have us hope for eternal life except through Christ' mercy. Christ will be our judge.
Do we correct brethren who have strayed? Jude shows true love requires our intervention. Jude recognizes clear differences in strategies. Different people need different strategies. So often we think we only show love with kind words and pleadings. No so! Some need gentle counseling. Others need direct confrontation. When there is a danger of fire we do not show love by asking the person to come out. You rudely reach in and drag them out.
Sin contaminates everything it touches. Jude uses a vivid metaphor to remind us of that. So, we are to not only avoid the sins of the flesh but the garments infected by it.
Jude' closes his letter with a doxology. Jude expresses confidence in God's power to preserve His people to the end. Our labors can only do anything through the power of God.