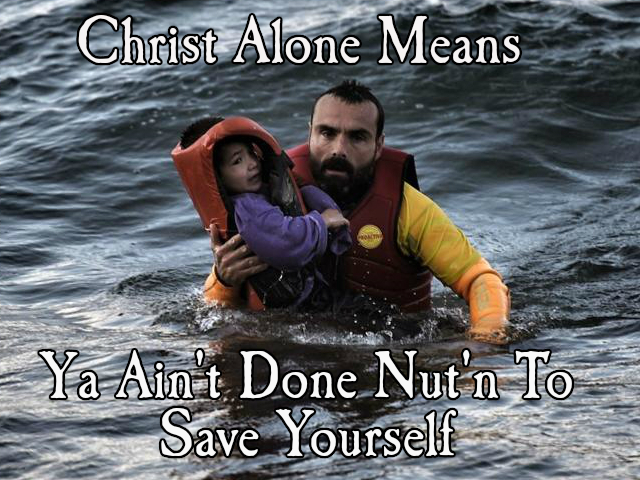 "I have said these things to you in figures of speech. The hour is coming when I will no longer speak to you in figures of speech but will tell you plainly about the Father. In that day you will ask in my name, and I do not say to you that I will ask the Father on your behalf; for the Father himself loves you, because you have loved me and have believed that I came from God. I came from the Father and have come into the world, and now I am leaving the world and going to the Father."
His disciples said, "Ah, now you are speaking plainly and not using figurative speech! Now we know that you know all things and do not need anyone to question you; this is why we believe that you came from God." Jesus answered them, "Do you now believe? Behold, the hour is coming, indeed it has come, when you will be scattered, each to his own home, and will leave me alone. Yet I am not alone, for the Father is with me. I have said these things to you, that in me you may have peace. In the world, you will have tribulation. But take heart; I have overcome the world."
Understanding And Applying the Text
I noted in the verses before this, Jesus appears to speak in code. I called it a riddle. It was not possible for the disciples to understand what Jesus meant. Jesus acknowledges that here.
The Greek translated in the ESV "figure of speech" may also be translated proverb or allegory. In fact, the KJV translates it "proverb". It means a saying that is or contains a shadow of a thing intended to teach.
In other words, Jesus admitted what He said had a hidden meaning. In the previous passage, I explored why Jesus did that. He was giving a prophetic message. He told them a truth they would not believe until after it occurred. We see an example of this with Peter. (Matthew 16:21-23; Mark 8:31-33) This was an example of Christ's grace. Jesus kept them from unbelief.
Christ's intended to encourage His disciples. His encouraged them s they would learn not to reject difficult doctrines.
Jesus said the hour is coming when He would no longer speak using figures of speech. He breaks from a familiar pattern. He does not use the phrase "The hour is coming and now is". He used that phrase in other parts of this conversation. He says, "The hour is coming." In other words, the time was coming. But it was not imminent.
The Holy Spirit came after Christ's ascension. When he came, the Holy Spirit revealed the mysteries and secrets of our salvation. The Holy Spirit created the church under the new covenant. The Holy Spirit did not bring new teaching. He taught nothing the disciples had not heard from Jesus own lips. He drove the darkness away so they understood Christ in a new and different manner. As a result, the disciples could then understand Christ's meaning.
Christ said He would tell them about the Father. He is reminding them the purpose of His teachings was to lead them to God.
Christ said there was coming a time when they would ask in His name and the Father would not refuse them. The reason the Father would not refuse was that they loved Him. He says it would not be necessary for Him to pray to the Father. This appears to be a contradiction. Why pray in Christ's name if he is not acting as an intercessor? In another passage, John calls Christ our advocate. (1 John 2:1) Paul says Christ intercedes for us (Romans 8:34) The writer of Hebrew says the same thing. Christ intercedes for us (Hebrews 7:25).
Christ does not say He will not intercede for us. The Father's love for the Son is so great that because they love the Son, the Father will give to them what they ask. This is an amazing teaching. We have the affection of the Father as soon as we place before Him the name of His Son.
Does God love us? Yes. But not because we are lovable. He loves us because we love the Son.
But wait! That seems to contradict the rest of scripture. If that is true, it would follow that our salvation rests in us. Our salvation comes only once we do something i.e. love the Son. It seems we are the initiator of our salvation. If that is true, our salvation depends on us and our willingness to love first.
Many Scriptures disagree with that thought. "In this is love, not that we have loved God but that he loved us and sent his Son to be the propitiation for our sins." (1 John 4:10.)
Many passages that teach God initiates our salvation. Nothing is more certain than this. The Lord calls us while we are still in our sins. (Romans 4:17;8:29-30). He raises us from the dead, (Luke 7:22). He unites us to himself when we were strangers to him, (Ephesians 2:12,). He makes hearts of flesh out of hearts of stone, (Ezekiel 36:26,). He reveals himself to those who do not seek him, (Isaiah 65:1; Romans 10:20.) Salvation is of the Lord. So what gives?
God loves men in a secret way. He loves even before He calls them, He loves first those who are among the elect. He loves his own before He creates them. But, when they are not yet reconciled to God, they are still God's enemies. "For if while we were enemies we were reconciled to God by the death of his Son, much more, now that we are reconciled, shall we be saved by his life." (Romans 5:10.) The reason the Father loves us is that He loves the Son. We are His gift to the Son. That is why Christ said God loves us when we love Christ. We have the pledge of the love of from the one we use to recoil from.
Our faith comes from God. (Ephesians 2:8) How are we to love Christ? We are to love so our faith fulfills the purpose of God.
Christ pointed out His authority was perpetual. "I came from the Father and have come into the world, and now I am leaving the world and going to the Father." (v28) It was not a temporary thing. So, the peace He gives is not a passing peace.
The disciples thought they understood. They responded, now you are speaking so we can understand. But it is clear they did not understand. The disciples no longer found Christ words obscure. But they deceived themselves into thinking they understood more than they did.
Christ reminds them of their weakness. We are not aware of our weakness until we come under serious trial. We believe we have stronger faith than we do until tribulation strikes. We trust in our faith. i.e. ourselves, until we trials strike. Then we must realize it is not our faith but Christ who saves. Solus Christus, Christ alone.
When Christ says, "I am not alone, for the Father is with me," (v32) He is saying the Father is on His side. He needed nothing from men.
He comforts the disciples by reminding them that while they will have tribulation. He is in control. He has overcome the world. The world has no real power. The world only has the power to kill the body. (Matthew 10:28)