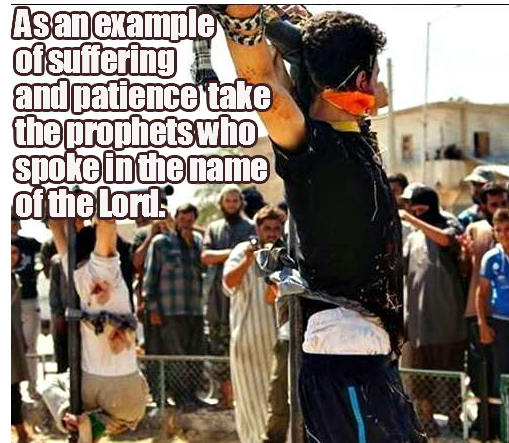 Be patient, therefore, brothers, until the coming of the Lord. See how the farmer waits for the precious fruit of the earth, being patient about it, until it receives the early and the late rains. You also, be patient. Establish your hearts, for the coming of the Lord, is at hand. Do not grumble against one another, brothers, so that you may not be judged; behold, the Judge is standing at the door. As an example of suffering and patience, brothers, take the prophets who spoke in the name of the Lord. Behold, we consider those blessed who remained steadfast. You have heard of the steadfastness of Job, and you have seen the purpose of the Lord, how the Lord is compassionate and merciful.
But above all, my brothers, do not swear, either by heaven or by earth or by any other oath, but let your "yes" be yes and your "no" be no so that you may not fall under condemnation.
Observation
We are to be prepared until the Lord returns.
We are to wait as farmers wait for the crops to be produced.
We are to prepare our heart because the Lord's coming is at hand.
We are to do complain about fellow Christian.
If we complain about fellow Christians we may be judged.
The Judge is ready to stand in judgment.
The prophets who spoke in the name of the Lord provide an example of suffering with patience.
We consider those who remain steadfast as blessed.
We have heard of Job's steadfastness.
We have seen the Lord's purpose.
We have seen the Lord is compassionate and merciful.
We should not swear.
Our "yes" is to mean yes and "no" to mean no.
Swearing by heaven, earth or by any oath may put us under condemnation.
Interpretation
After having spoken out against those who oppress, James now turns to the oppressed.
We, the oppressed, are to be patient. We have a reason for being patient. Christ is returning to judge and set all things right. Notice what James says we are to do and what James does not say. James says we are to be patient. We are to wait. James does not say we are to rise up. He does not mention starting a political movement. He does not talk about taking up arms. James says wait for the time to when the crop, or precious first fruit, is produced.
Paul uses the same analogy for the production of a crop in 2 Timothy 2:6. There Paul says it is the hard working farmer who shares in the crop. A farmer works in his field while he waits. A farmer is patient but works with patience. Patience does not imply idleness. We are to work in the Lord's field.
James says we are to establish our heart because the Lord's coming is at hand. All the apostles talk about the Lord's coming being at hand 2000 years ago bothers many. If His coming is at hand 2000 years ago it would seem, if it were going to happen, it should have happened by now.
To be honest this bothered and perplexed me. But it was because of the erroneous teaching I suffered under. And to be honest that teaching is the common teaching of the church today. It is not the historical understand of the church. True the early church believed Christ could come at any moment. That is still true today. The church believes Christ may return any moment. But Christ's coming soon or His coming being at hand is not necessarily a reference to time. It is a reference to proximity. Christ nearness has come. While we are still suffering the pains of this world Christ is with us and near us. Christ coming is at hand. Christ has come and is coming.
James tells us not to complain. Some believe what James is referring to is we are not to envy each others' lot. John Calvin has a different take. Calvin points out James has just spoken about those who oppress others by their abuse of power. Calvin believes James is encouraging those who are suffering. Calvin understands James to say they are to let the offense pass by. That is why James adds "so that you may not be judged," In other words, you are not to commit the same offense. We are not to take vengeance.
James tells us to look back to the prophets. They were only guilty of speaking God's word. Yet the prophets suffered persecution. We may also look back on the early Church. The Romans persecuted for proclaiming the God's word and worshiping God. This provides comfort to us. We now know our suffering is not unique.
Feeling that our suffering serves no purpose can break us down. But God, in His mercy, uses suffering as an aid to our salvation and sanctification.
James reminds us of Job. As far as we can tell, no one has suffered in the manner job suffered. Job asked God why but never received an answer. So often I hear people ask, "What is God trying to teach me?" It may be God is not trying to teach you anything. If could be your suffering is to bless someone else. It may be that it is to teach someone else. Your suffering may not be for you at all. Job's suffering teach us even to this day. Job's suffering was because he served God. Job suffering caused even Satan to praise God. Your suffering may be along the same lines.
"Do not swear, either by heaven or by earth or by any other oath." Swearing is a common vice. Through the ages, men have sworn. We do not think of it as a serious wrong. Even those who claim Christ's name, device subterfuges.  We believe we can swear with impunity. In the first century, we find an example of this same thing. Rather than swearing by God's name, the Jews would swear by heaven or earth or anything greater than they were. They deluded themselves. They believed they were not profaning God's name because they did not mention it. Christ condemned this in Matthew 5:34. Let your yes be yes and you no be no. You do not need a verbal exclamation. You do not need it because your integrity should punctuate your words.