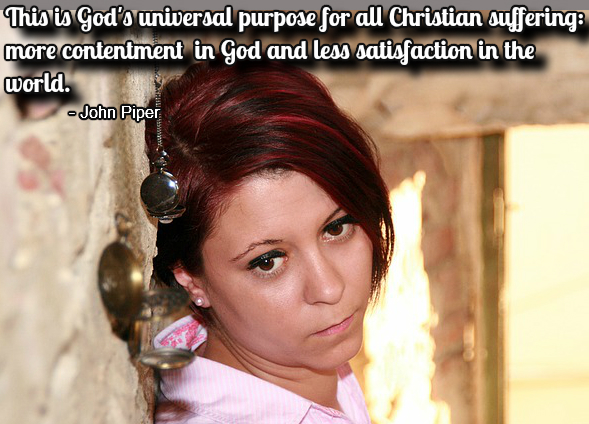 If any of you lacks wisdom, let him ask God, who gives generously to all without reproach, and it will be given him. But let him ask in faith, with no doubting, for the one who doubts is like a wave of the sea that is driven and tossed by the wind. For that person must not suppose that he will receive anything from the Lord; he is a double-minded man, unstable in all his ways.
Let the lowly brother boast in his exaltation, and the rich in his humiliation, because like a flower of the grass he will pass away. For the sun rises with its scorching heat and withers the grass; its flower falls, and its beauty perishes. So also will the rich man fade away in the midst of his pursuits.
Blessed is the man who remains steadfast under trial, for when he has stood the test he will receive the crown of life, which God has promised to those who love him. Let no one say when he is tempted, "I am being tempted by God," for God cannot be tempted with evil, and he himself tempts no one. But each person is tempted when he is lured and enticed by his own desire. Then desire when it has conceived gives birth to sin, and sin, when it is fully grown, brings forth death.
Do not be deceived, my beloved brothers. Every good gift and every perfect gift is from above, coming down from the Father of lights with whom there is no variation or shadow due to change. Of his own will, he brought us forth by the word of truth, that we should be a kind of firstfruits of his creatures.
Observation
If we lack wisdom we are to ask God for it and God will give us wisdom
God gives generously without finding fault.
We are to ask God for wisdom in faith without doubting.
Whoever doubt is like a wave tossed back and forth.
Anyone who doubts should suppose they will receive anything from the Lord.
Anyone who doubts does not know what to believe and unstable in everything he does.
Don't worry about those who boast in glory and riches boast. Their riches and glory will fade.
The rich and proud are really lowly humiliated in riches.
Because what lowly may boast in their being praised and honored.
The rich man will fade in his pursuit of riches.
The man the remains steadfast when tried is blessed.
After a man has stood the test he will be rewarded with the crown of life.
God has promised the crown of life to those who love Him.
No one should say that they are tempted by God.
God cannot tempt with evil.
God does not tempt anyone to do evil.
We are tempted by our own desires.
Our own desires produce sin.
Sin produces death.
Our desires produce our death.
Every good or perfect gift is from God.
God does not change.
God brought us forth by His word.
God brought us forth because of His will.
We are a kind of firstfruits of God's creatures.
Interpretation
James opens the letter talking about rejoicing in suffering. So, the context of the passage is rejoicing in suffering. James has just said to rejoice in our trials. To understand this you must confine your interpretation to the context. Here, it is as if James is saying if you cannot understand how to rejoice in suffering, ask God to illuminate you.
To be wise is to submit to God. Wisdom is submitting with the knowledge and the conviction everything is under God's control. So, if we don't understand how joy is possible while suffering, James says to ask the Lord. James makes the invitation to ask God for wisdom without exception. This is an important concept. No one should deprive themselves of such a great privilege.
The command to ask God comes with a promise. James mentions this in case anyone is afraid to come to God. God gives generously. This is a restatement of what Jesus said in the sermon on the mount. "Ask, and it will be given to you; seek, and you will find; knock, and it will be opened to you. For everyone who asks receives, and the one who seeks finds, and to the one who knocks it will be opened." (Matthew 7:7-8)
Seeking forgiveness goes with asking God for help. To confess your sin over and over is embarrassing. So, you excuse yourself by saying you will never to it again. You mention the good things you did. You try to give God a reason to forgive or help you. But James reminds us God is ready to add new blessings to the old ones. There is no end or limitation to His grace.
James says you are to ask in faith. We tend not to recognize how great a sin unbelief is. In it, you question God's integrity. Your unbelief calls God a liar. When you doubt the promises of God, you torment yourself. You only have peace when you believe the truth of God. James concludes that those who doubt the promises of God are not worthy to receive anything from God.
But praise God for His mercy. We all doubt. Yet while you are unworthy, while you are undeserving God provides for you.
James reminds us we are free from the bondage of sin. As such, we are the servants of God. James reminds those who are lowly to rejoice in that fact. He also forbids the rich to be proud. Their wealth is insignificant compared to the grace they have received.
We need purpose and significance. We want to believe when we suffer, it is for a reason. We all suffer. If you suffer for anything other than Christ, you suffer for nothing. You may claim there is a purpose. You may claim you suffer for your country or an ideal. But theses will all vanish. And thus, you will have suffered for nothing. This makes all suffering, other than for Christ, meaningless. It is as the writer of Ecclesiastes wrote. "Vanity of vanities, says the Preacher, vanity of vanities! All is vanity." (Ecclesiastes 1:2)
It is a paradox how those who receive everything they wish are not happy. But such is the nature of sin. The writer of Ecclesiastes states the negative side. Jame states the positive side. "Blessed is the man who remains steadfast under trial, for when he has stood the test he will receive the crown of life, which God has promised to those who love him"
What does James mean when he says God does not tempt us? The whole scripture seems to contradict this. There is abundant evidence God sends temptation our way. God tempted Abraham (Genesis 22:1). You suffer daily. When James says God does not tempt us he is referring to a specific type of temptation. God's testing makes you aware what is in your heart. This is a far different thing than the inward drawn to the evil in our hearts. James is referring to the inward temptations. These are your own evil desires.
By the same token, we do not need Satin to tempt us. You are not a morally neutral creature. You do not bend to the will of either God or Satan, based the strongest temptation. You are not like a piece of iron drawn to the strongest magnetic force. External temptations are not the cause of any evil you commit. You are not a basically good creature either. You are morally depraved. Depravity has invaded every aspect of your life. That is, total depravity means. It does not mean you are as depraved as you can be. It is that depravity effects all you. Wickedness comes naturally. You do not need anyone's help. You do that all by yourself.
Do you sin as a result of temptation from God? No. You sin because of who you are. You are a sinner. That is the temptation to which James is referring.
God is the author of good not evil. This text is often misunderstood. People often understand it to say that anything bad that happens did not come from God. This confuses your will with God's will. It eliminates the possibility of correction. Correction is not evil. Correction is good. This reasoning is completely contrary to Plato. Plato maintained God does not send calamities. This is the most common view today as well. The reason people believe calamities are not sent by God is, God is good.
Leaving evil unpunished is evil. Since God is good he cannot leave evil unpunished. Thus, the popular idea that no calamities come from God denies the God's goodness. You may ask what about those innocent people. What about those killed in the earthquake or tsunami? I remind you there are no innocent people. "For all have sinned and fallen short of the glory of God" (Romans 3:23)
But God by His grace and His grace alone has purchased you so He may save you. So your suffering it is not a punishment. Christ took your punishment. Your suffering is only to correct and sanctify and perfect you. It is to prepare you to enter into the presence of Christ. Your suffering has a purpose.