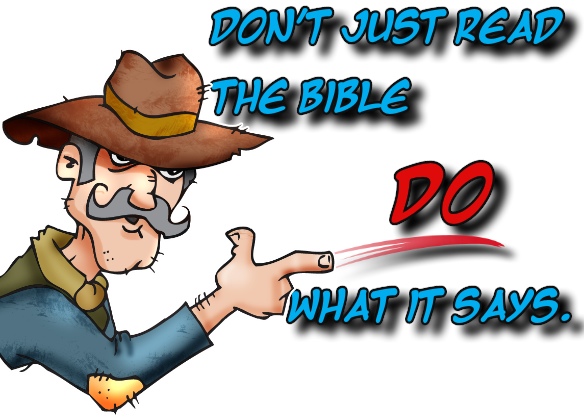 Know this, my beloved brothers: let every person be quick to hear, slow to speak, slow to anger; for the anger of man does not produce the righteousness of God. Therefore, put away all filthiness and rampant wickedness and receive with meekness the implanted word, which is able to save your souls.
But be doers of the word, and not hearers only, deceiving yourselves. For if anyone is a hearer of the word and not a doer, he is like a man who looks intently at his natural face in a mirror. For he looks at himself and goes away and at once forgets what he was like. But the one who looks into the perfect law, the law of liberty, and perseveres, being no hearer who forgets but a doer who acts, he will be blessed in his doing.
If anyone thinks he is religious and does not bridle his tongue but deceives his heart, this person's religion is worthless. Religion that is pure and undefiled before God, the Father, is this: to visit orphans and widows in their affliction, and to keep oneself unstained from the world.
Observation
We are all to be ready to hear.

We are all to be slow to speak.

We are all to anger slowly.

Anger in a man does not produce God's righteousness.

Everyone is to put away filthiness.

Everyone is to put away rampant wickedness.

Everyone is to receive God's word with meekness.

God's word is able to save out souls.

We are not to just hear God's word, we are to do what it says.

If we only hear God's word and don't do what it says, we deceive ourselves.

If we only hear the word and not do it we are like a man who forgets what he looks like after looking in the mirror.

The law is a law of liberty.

The law perseveres.

One who acts on what he hears is blessed.

If you do not control what you say, your religion is worthless.

A religion that is pure and undefiled before God is one who helps widows and orphans.

A religion that is pure and undefiled before God is one that keeps you unstained from the world.
Interpretation
Understanding James is an exercise in maintaining the context. It is easy to lose the context because we want to read our situation and culture into his letter.
James has just established the goodness of God. Now he shows us how to prepare to receive the blessing God has for us. To understand verse 19 outside this context would make its inference unrealistic.
You do not hear God speak when you think you are wise. James says slow down, listen to what God has to say. Do not think yourself so wise that you can correct or add to God's word. You do not learn when you interrupt. When God opens His sacred mouth you are to open your heart and ears. You are to remain calm and not become angry. You do not hear God unless your mind is calm and sedate.
James is not saying you are to be silent or slow to speak and not become angry when people blaspheme God's name. James is not disagreeing with Paul. Paul told Timothy to oppose the false teacher. You are not to remain quiet and let others teach false doctrine. You are to speak up in those cases. You oppose them. Paul was quick to speak out and oppose Peter when Peter was wrong. (Galatians 2:11) And, Peter was an Apostle. Allowing someone to continue in error, is not an act of love. It is an act of indifference. Indifference is the opposite of love.
James says you are to receive God's word in calm quietness and meekness. God's word is not received unless you allow it to implant and root itself in you. It is like a garden. You must purge what has already taken root. You must pull the weeds of depravity from your heart so the garden of God's word may take root. That is why James tells us to lay aside uncleanness and wickedness.
When James says, "be doers of the word," the "doer" is not the same as in Romans 2:13. In Romans, Paul refers to the doer of the law as one who satisfies the law and fulfilled it in every way. James refers to the "doer" as one who embraces God's word from the heart. James' "doer" testifies by the way he lives. James' "doer" believes and trusts God. This is the "doer" Jesus refers to in Luke. "Blessed rather are those who hear the word of God and keep it!" (Luke 11:28)
God's word is like a mirror. When you look into it, it shows you who you are. James points out that knowing who you are and who God is should change your behavior. If it does not, you walk away and forget what the mirror showed you. When we look into God's perfect word it transforms us to the image of God.
James hit hard at those who claim fulfilling religious duty or ceremonies are what God wants. James has just said you should hold your tongue before God. Now he goes a step further. You are not to use your tongue for evil.
When I was a child my parents taught me this meant I was not to say bad words. Crude language does not bring glory to God and for that reason, we should avoid using it. But, James meaning goes so much deeper. Your tongue is not bridled when you use it for selfish gain. This includes business and social activity. In other words, all aspects of life. If your intent is slander, misleading, or confusion your religion is worthless.
When you look into God's word and see yourself as you are, you realize the gift God has given you. God's word causes you to realize the love God has given you. Your response can only be to love in return.