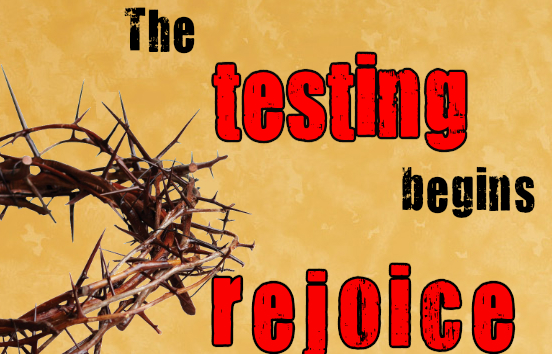 James, a servant of God and of the Lord Jesus Christ,
To the twelve tribes in the Dispersion:
Greetings.
Count it all joy, my brothers, when you meet trials of various kinds, for you know that the testing of your faith produces steadfastness. And let steadfastness have its full effect, that you may be perfect and complete, lacking in nothing.
Observation
James was a servant of God
James was a servant of the Lord Jesus Christ
Jesus Christ was James' Lord
James wrote to the twelve tribes in the Dispersion
They were to count it for joy when they met all kinds of trials.
Testing of faith produces steadiness in faith.
They were to let steadfastness have its full effect
They were to be perfect.
The effect of a steady faith is perfection
When we are perfect, we lack nothing.
Interpretation
We understand from Jerome this letter was not accepted by all of the early churches. The second chapter appears inconsistent with the doctrine of free justification. I will address that when we get to it.
As far as authorship, it seems almost unanimous that the author is a relative of Christ. He was the head of the church in Jerusalem. Paul mentions him with Peter and John as a pillar of the church. It is clear James the son of Zebedee is not the author. Herod killed him not long after the resurrection.
This letter is unusual in the New Testament. James does not speak of the grace of Christ. Nor does he speak of faith in Christ. The reason seems to be because he is addressing those who already knew the correct doctrines. So there was no need to reiterate the doctrine. Rather James' goal is to drive the reader into a proper response to the truths of doctrine.
James addresses the implications of justification by grace through faith. That is, James talks about moving from wrath to grace. This changes both the status and the experience of the believer. Instead of estrangement, there is now peace with God. Instead of falling short of God's glory through sin, there is the hope of glory. Instead of suffering as judgment, there is joy in tribulation. This joy is because of what God produces through the tribulation. Instead of uncertainty, there is assurance of God's love and joy in Him.
James addresses his letter to the twelve tribes. The Assyrians drove the northern kingdom from the land. They dispersed the tribes throughout the kingdom. As a result, the northern tribes lost their identity. So, James seems to be saying this applies to all Christians for all times.
James' first exhortation is to bear trials with cheer. At the time, James wrote this letter almost all Christians were Jews. The Jewish leader however, looked down on and despised the Christians. Christians were a wretches idea of a wretch. James' response was not to resist or fight. James response was not to demand their rights. That is the response we see today in the church to our culture. We might ask how is that working for us? Not well! James response was to bear it with joy.
We are not to organize protests and shout at people when we loose our rights. We are bear it with joy. Do you mean we are just to stand there and take it? How else do you bear it with joy? This is counter to our nature. That alone may be a good reason to listen to James. Our nature is completely sinful.
How are we to understand temptations and trials? We should understand them to include everything that opposes us. They are all tests of our obedience to God. When James says to count it all joy, what does that mean? It is the same as saying that temptations and trails are beneficial. James is not saying "Don't worry be happy." James is saying there is a benefit to trails and temptations. The benefit is we come out the other side stronger. It is like the saying, that which does not kill us makes us stronger. To that, a Christian may add, and that which kills us brings us our reward. Trails then are only beneficial to the Christian. They produce fruit which we should treasure. Peter makes the same argument in his first epistle. "In this you rejoice, though now for a little while, if necessary, you have been grieved by various trials, so that the tested genuineness of your faith—more precious than gold that perishes though it is tested by fire—may be found to result in praise and glory and honor at the revelation of Jesus Christ." (1 Peter 1:6-7)
There is no doubt we consider disease, hunger, and imprisonment as evil. And they are. But by God's kindness, they aid our salvation. So, we should not complain, We should submit to them. This message from James is consistent not only with Peter but also Paul in Romans. "We rejoice in our sufferings, knowing that suffering produces endurance, and endurance produces character, and character produces hope, and hope does not put us to shame because God's love has been poured into our hearts through the Holy Spirit who has been given to us." Romans (5:3-5)
James goes on and reminds us that the Christian life is not a one and done activity. We must be steadfast. We must allow steadfastness to produce our sanctification.