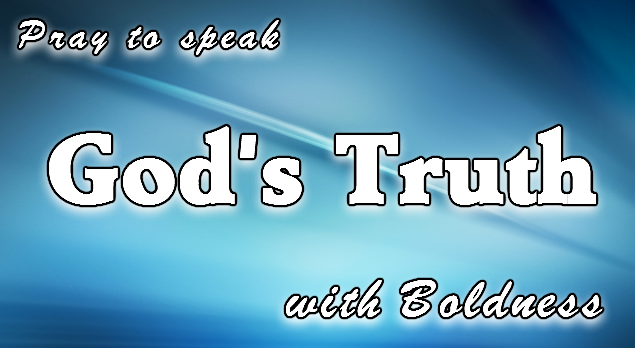 When they were released, they went to their friends and reported what the chief priests and the elders had said to them. And when they heard it, they lifted their voices together to God and said, "Sovereign Lord, who made the heaven and the earth and the sea and everything in them, who through the mouth of our father David, your servant, said by the Holy Spirit,
"'Why did the Gentiles rage,
and the peoples plot in vain?
The kings of the earth set themselves,
and the rulers were gathered together,
against the Lord and against his Anointed'—
for truly in this city there were gathered together against your holy servant Jesus, whom you anointed, both Herod and Pontius Pilate, along with the Gentiles and the peoples of Israel, to do whatever your hand and your plan had predestined to take place. And now, Lord, look upon their threats and grant to your servants to continue to speak your word with all boldness, while you stretch out your hand to heal, and signs and wonders are performed through the name of your holy servant Jesus." And when they had prayed, the place in which they were gathered together was shaken, and they were all filled with the Holy Spirit and continued to speak the word of God with boldness.
Understanding And Applying the Text
When temple leaders released Peter and John, they returned to their friends. They told them what had happened. These were other believers, not their families.
The threats from the temple leaders did not discourage them. Instead, the threats emboldened them. Once Peter and John said what happened, the group went straight to prayer.
This passage teaches us what we are to do when threatened. The disciples did not laugh at the danger. They did not make light of the danger. The danger was very real. They went to prayer.
They did not pray for the courage to battle the danger. And neither did they ask for God to remove the danger. Instead, they prayed for the ability to continue to preach God's word with boldness.
Notice how their prayer started. It started by acknowledging God's sovereignty. It is God who made all things. God has all power. He controls all things. Men may rage against the Lord, but they do so in vain.
They quoted scripture in their prayer. In doing so, they affirmed scripture is from God. They affirmed verbal inspiration. The Holy Spirit spoke through David. They recalled God's promise.
God promised to defend His name. The scripture, in the prayer, is from Psalm 2. When David wrote the Psalm he was speaking of himself. After Samuel anointed David king, Saul was after his head. The Philistines made war against him. After David took on the crown, other enemies made war against him.
David knew God supported him. And David ridiculed their foolish attempts.
In the same manner, the disciples were ridiculing the temple leaders. The leaders raged against God's will. It was a futile as David's enemies. We may have the same confidence. God is sovereign. Men cannot prevent, interfere or slow down God establishing His kingdom.
You may have heard some say, God's sovereignty is limited by man's free. That is laughable. Like the temple rulers, they deserve ridicule. Like David's enemies, they war against God. They elevate man and place God under man's will. They hold God in contempt.
By nature man elevates himself. By nature, we see ourselves equal with God (Genesis 3:5)
The application of the Psalm was the Jews and Gentiles were opposing Jesus. The Jews were found among the enemies of God's plan. The believers were correct in understanding both Jews and Gentiles were responsible for Jesus' crucifixion. Who crucified Jesus. It was: Herod Antipas, who was the son of Herod the Great and tetrarch. of Galilee and Perea (Luke 3:1; 23:6, 7). Pontius Pilate, the Roman procurator (governor) of Palestine from a.d.26–36 (Luke 3:1; 23:1–24). The chief priests and elders persuaded the people to reject Jesus and ask for Barabbas (Matt. 27:20–26).
The believers understood and acknowledged whatever happened God predestined. (v28) Or as other translations put it "determined beforehand" God is sovereign. We can rest in that. We do not need to worry about the decline of the church in recent years. That does not mean we are to be lax in proclaiming the Gospel. For God has predetermined what so ever happens.
Luke is not content saying, whatever happens, is according to God's plan. It is also by God's hand. Luke emphasized this point by saying, events are ordered by God's power and hand.
In these early chapters of Acts, Luke teaches the compatibility of divine sovereignty and human responsibility.
They asked that God beat down the cruelty of His adversaries. But they do not ask this for their own sake. They ask that they may live a quiet life. And that they have the liberty to preach the gospel everywhere.
They prayed that God would grant them the ability to speak God's word with boldness. Christ is the truth. (John 14:6) Christ is "The Word." (John 1:1) We are the body of Christ. (1 Corinthians 12:27) Christ is not separate from the Gospel. When men assail us, Christ applies that to Himself. (Acts 9:4)
When they were finished praying, God showed He had heard their prayer with a visible sign. The place they were shook. But that was only a sign. They are all filled with the Holy Ghost. They were all endowed with greater boldness. This was the real evidence God heard them.
God uses a visible sign of His promise still with the Lord's Supper. In the Supper, we partake of the body and blood of Christ. Not in a crass sense, but in a matter that we become one with Him.