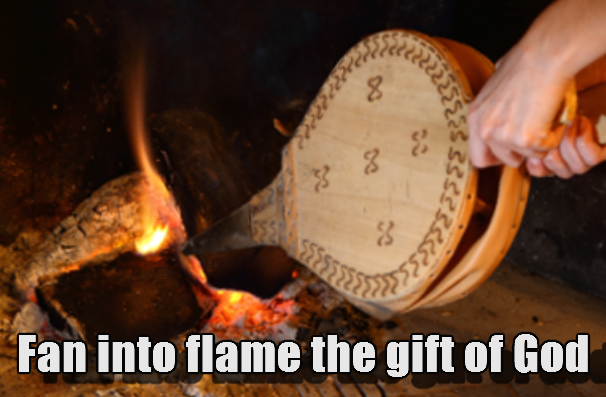 Paul, an apostle of Christ Jesus by the will of God according to the promise of the life that is in Christ Jesus,
To Timothy, my beloved child:
Grace, mercy, and peace from God the Father and Christ Jesus our Lord.
I thank God whom I serve, as did my ancestors, with a clear conscience, as I remember you constantly in my prayers night and day. As I remember your tears, I long to see you, that I may be filled with joy. I am reminded of your sincere faith, a faith that dwelt first in your grandmother Lois and your mother Eunice and now, I am sure, dwells in you as well. For this reason, I remind you to fan into flame the gift of God, which is in you through the laying on of my hands, for God gave us a spirit not of fear but of power and love and self-control.
Therefore do not be ashamed of the testimony about our Lord, nor of me his prisoner, but share in suffering for the gospel by the power of God, who saved us and called us to a holy calling, not because of our works but because of his own purpose and grace, which he gave us in Christ Jesus before the ages began, and which now has been manifested through the appearing of our Savior Christ Jesus, who abolished death and brought life and immortality to light through the gospel, for which I was appointed a preacher and apostle and teacher, which is why I suffer as I do. But I am not ashamed, for I know whom I have believed, and I am convinced that he is able to guard until that Day what has been entrusted to me. Follow the pattern of the sound words that you have heard from me, in the faith and love that are in Christ Jesus. By the Holy Spirit who dwells within us, guard the good deposit entrusted to you.
You are aware that all who are in Asia turned away from me, among whom are Phygelus and Hermogenes. May the Lord grant mercy to the household of Onesiphorus, for he often refreshed me and was not ashamed of my chains, but when he arrived in Rome he searched for me earnestly and found me— may the Lord grant him to find mercy from the Lord on that Day!—and you well know all the service he rendered at Ephesus.
Observation
Paul was an apostle of Christ Jesus by the will of God.
Paul considered Timothy his child.
Paul thanked God for Timothy.
Paul's ancestors served God.
Paul served God with a clear conscience.
Paul prayed for Timothy day and night.
Apparently, Timothy wept with Paul left.
Paul wanted to see Timothy again.
Seeing Timothy would make Paul happy.
Timothy's faith was sincere.
Timothy's grandmother and mother were in the faith.
Timothy was to work to increase the gift of God.
The God of God came to Timothy by Paul laying hands on him.
God gave Paul and Timothy a gift of power, love, and self-control.
Timothy was not to be ashamed of the testimony of Christ.
Timothy was not to be ashamed of Paul's imprisonment.
Timothy was to share in the suffering for the gospel.
Timothy was to share in the suffering by the power of God.
God saved Paul and Timothy.
God called Paul and Timothy to a holy calling.
Timothy and Paul were not called because of what they had done but because of the purpose of God.
God's purpose was set before the beginning of time.
God's purpose is shown in appearing of Christ Jesus, our Savior.
Christ abolished death.
Christ brought life and immortality through the gospel.
Paul was appointed an apostle, preacher, and teacher.
Paul suffered because of his appointment as a preacher, apostle, and teacher.
Paul was not ashamed because he knew in whom he believed.
Paul knew that God would protect him until it was time for Paul to die.
Timothy was to guard was he was given with the help of the Holy Spirit
The Holy Spirit dwelt in Timothy and Paul.
Those in Asia abandoned Paul.
Onesiphorus aided Paul while he was in prison.
Onesiphorus was not ashamed of Paul's imprisonment
Onesiphorus sought out Paul when he arrived in Rome.
Onesiphorus served well in Ephesus.
Interpretation
It is clear that Paul intended others to read this letter besides to Timothy. If Timothy were the only one whom Paul intended the letter, he would not need to explain who he was. He would not need to state his authority. Paul not only says he is an apostle of Jesus but his appointment is direct from God. That is a lot of authority. Those who claim they are "red letter Christians" should take notice. Bible is all red letters. Every word is the word of God.
Paul writes this letter from prison while he awaits his execution. Paul's purpose is to seal his doctrine and ensure the effect of his teaching would continue. Those Paul trusted abandoned him. He was feeling alone. In fact, he states all those in Asia abandoned him. Yet Paul meets the situation with courage and heroism. Even though he had few friends, he held onto the peril of his life, Jesus Christ.
Paul said he serves God as his ancestors did. How could that be? They did not know Jesus. Yet it is through Jesus Christ alone we have eternal life.
Weren't those in the Old Testament under the Law? Isn't it Christ's death and resurrection that reveal God's grace? Paul refers to the full faith of the fathers. Abel, Noah, Abraham, Moses, David, and all believers, they placed their confidence in the future appearance. They had the same faith as we have. They trusted God's promise of life. Refer to Roman 4:3 and Hebrews 11.
In verse 10, when Paul says "which now has been manifested through the appearing of our Savior Christ Jesus," he includes those who are partakers of that grace in ancient times.
We look back to what God has done. They looked forward to what God would do. Christ's atoning sacrifice was for all the saints, past, and future. This may be why Paul mentions Timothy's grandmother and mother. Timothy was a first generation Christian. Paul reminds Timothy his mother and grandmother believed and trusted the promises of God. Just as the saints mentioned in Hebrews, their salvation is also assured.
This contradicts what the Jews were claiming. The Jews were claiming Timothy has abandoned the faith of his country and ancestors. They claimed he abandoned the law of Moses. But, Timothy worshiped the God his ancestors taught. He worshiped the God who revealed Himself to Abraham. He worshiped the God who delivered the Law through Moses.
There was a difference, though. Timothy now worshiped the God of his ancestors with pure affection. God had enlightened him with the Gospel.
"But this I confess to you, that according to the Way, which they call a sect, I worship the God of our fathers, believing everything laid down by the Law and written in the Prophets, having a hope in God, which these men themselves accept, that there will be a resurrection of both the just and the unjust." (Act 24:14-15)
"And now I stand here on trial because of my hope in the promise made by God to our fathers, to which our twelve tribes hope to attain, as they earnestly worship night and day. And for this hope, I am accused by Jews, O king!" (Act 27:6,7)
Paul encourages and exhorts Timothy to work to strengthen the gifts God had given him. It is not unusual for individuals with great gifts and talents to get lazy. As a result, their talent never develops. Satan works to extinguish all that is of God in us by any means possible. We should strive to develop our gifts, skills, and talents. We should strive to develop everything good in us to perfection. Paul uses a metaphor of fanning a flame. A flame will go out if not tended. But when fanned a flame will grow to a roaring fire.
Paul says Timothy received gifts when Paul laid his hands on Timothy. Paul is referring to Timothy's ordination not Timothy's election. The gifts Timothy received were not all new gifts. It was not as if Timothy did not have any gifts before his ordination. He no doubt had many skills and talents before his ordination. God wished to make use of those gifts and so, called him to ministry. God then enriched Timothy's gifts. But there were new gifts as well. The new gifts Timothy received were power, love, and self-control.
Since Timothy was called and empowered by the Holy Spirit, He was not to be ashamed. Paul mentions this because the culture considered the gospel infamous. It was of low reputation. Preaching the good news of Jesus landed Paul in jailed. We find the same sentiments today. "Well, he must have done something wrong. Otherwise, they wouldn't have arrested him."
Verse 12 is worth meditating and studying. "…which is why I suffer as I do. But I am not ashamed, for I know whom I have believed, and I am convinced that he is able to guard until that Day what has been entrusted to me." This verse proclaims the power of faith. It shows that, even in desperate situations, we ought to give glory to God. We are not to doubt that He will be true and faithful;
Timothy was to hold on tight to the doctrines he had learned. Paul was aware how we by nature will distort and leave behind the pure doctrine. That is why the preacher should be careful about the words he uses. Even the smallest misrepresentation of doctrine can cause great harm. It is easy for us to leave behind the truth. We must guard it with care.