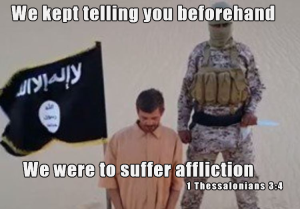 But since we were torn away from you, brothers, for a short time, in person not in heart, we endeavored the more eagerly and with great desire to see you face to face, because we wanted to come to you—I, Paul, again and again—but Satan hindered us. For what is our hope or joy or crown of boasting before our Lord Jesus at his coming? Is it not you? For you are our glory and joy.
Therefore when we could bear it no longer, we were willing to be left behind at Athens alone, and we sent Timothy, our brother and God's coworker in the gospel of Christ, to establish and exhort you in your faith, that no one be moved by these afflictions. For you yourselves know that we are destined for this. For when we were with you, we kept telling you beforehand that we were to suffer affliction, just as it has come to pass, and just as you know. For this reason, when I could bear it no longer, I sent to learn about your faith, for fear that somehow the tempter had tempted you and our labor would be in vain.
Observation
Paul had to leave the Thessalonians before he wanted to go.

While Paul was physically separated from the Thessalonians they were always close to him in his heart.

Paul had tried to come to the Thessalonians several times but was prevented by Satan.

Paul wanted to see the Thessalonians face to face.

The Thessalonians were Paul's crowning achievement before Christ.

The Thessalonians were Paul's glory and joy.

Paul sent Timothy to Thessalonica to see how the Thessalonians were doing.

Paul could not stand not knowing how the Thessalonians were doing.

Timothy was a brother and coworker with Paul in the gospel.

Paul sent Timothy to exhort and help solidly ground the Thessalonians in the faith.

Paul was afraid the persecution the Thessalonians were suffering would weaken their faith.

Paul and the Thessalonians were destined for suffering.

Paul told the Thessalonians when he was with them they were destined for suffering.

One of Timothy's jobs was to report back to Paul the status of the Thessalonians' faith.
Interpretation
Paul had said he was a parent to the Thessalonians, a father. A father does not abandon his children. Paul wants to assure the Thessalonian his separation was not of his own choosing. He was "torn" from them. He had attempted to return to them. They were bound together in the heart even though separated by physical distance. Paul never forgot about them. The physical separation did not lessen Paul's attachment to them.
Luke, in Acts 20, relates a time when the Jews were waiting to ambush Paul. The same thing or something similar may have been what kept Paul from the Thessalonians. Paul ascribes this to Satan. In Ephesians 6:12, Paul says, "For we do not wrestle against flesh and blood, but against the rulers, against the authorities, against the cosmic powers over this present darkness, against the spiritual forces of evil in the heavenly places." While it appeared people were inhibiting or threatening Paul, the real threat is Satan. Our real battles are similar. Evil comes from the Satan. ISIS, terrorists, suicide bombers are secondary threats. Our real battle is with "the spiritual forces of evil". It is Satan that threatens the Christian.
Paul says the Thessalonians are his glory and joy. By this, He is not saying he gloried in anything other than God alone. It is right for us to glory in all God's favors and benefits. It is right to glory in them as long as He is our goal.