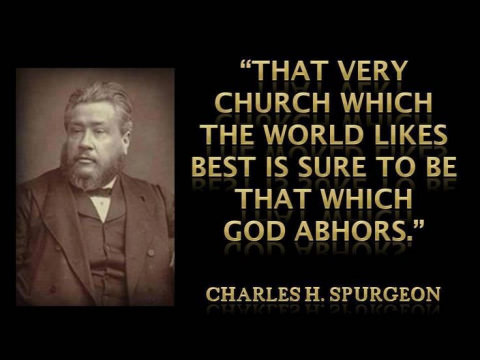 "If the world hates you, know that it has hated me before it hated you. If you were of the world, the world would love you as its own; but because you are not of the world, but I chose you out of the world, therefore the world hates you. Remember the word that I said to you: 'A servant is not greater than his master.' If they persecuted me, they will also persecute you. If they kept my word, they will also keep yours. But all these things they will do to you on account of my name because they do not know him who sent me. If I had not come and spoken to them, they would not have been guilty of sin, but now they have no excuse for their sin. Whoever hates me hates my Father also. If I had not done among them the works that no one else did, they would not be guilty of sin, but now they have seen and hated both me and my Father. But the word that is written in their Law must be fulfilled: 'They hated me without a cause.'
"But when the Helper comes, whom I will send to you from the Father, the Spirit of truth, who proceeds from the Father, he will bear witness about me. And you also will bear witness, because you have been with me from the beginning.
"I have said all these things to you to keep you from falling away. They will put you out of the synagogues. Indeed, the hour is coming when whoever kills you will think he is offering service to God. And they will do these things because they have not known the Father, nor me. But I have said these things to you, that when their hour comes you may remember that I told them to you.
Understanding And Applying the Text
The world hated and hates Christ. They hated Him for what He taught, His doctrine. Anyone who teaches Christ's doctrines should expect that same hatred. Christ told his disciples to expect it. It was a certainty.
Christ said He separated His disciples from the world. The world hates them because they belong to Christ. The highest value expressed by the world today is the call for tolerance. The world says we are to not only tolerate but embrace all points of view. But, it does not tolerate the intolerant. In other words, there are some views not to the tolerate. The world tolerates only those who agree with it.
Christ chose or separated us from the world for His glory. Since the world hates Christ, it hates those He has chosen because those He has chosen bring glory to Him.
What about when Paul says in Romans 12:18, "live peaceably with all?" How can that be when we are the hated by the world. The answer to this is easy. First, start by reading the entire verse in context. "If possible, so far as it depends on you, live peaceably with all." (Romans 12:18) We are not to offend. We are to declare Christ and His glory. It is the Gospel that offends. We let the Gospel offend. We are not to be offensive.
Do not miss apply what Jesus said. It is a mistake to assume if the world hates us, we are showing Christ's righteousness. The world wars with itself. We can give many reasons to hate us without bringing glory to Christ. What the world hates in believers is what is of God. "But all these things they will do to you on account of my name." (v21)
What did Jesus mean when he said if He had not come they would not have been guilty of sin? Some think Jesus is referring to unbelief. Unbelief or a lack of faith is the ultimate sin. After all, faith is the instrument God uses to forgive and blot out our sins.
While that may be true it does not apply to this passage. Jesus is not using the word sin in the general sense. Christ is telling His disciples the world's ignorance is inexcusable. This is the same message Paul gives in Romans 1:18-23.
When we hate the doctrines of Christ. We hate Christ. The most obvious and ubiquitous example is the hatred of the doctrines of grace. When we hate the idea of God choosing whomever He wills. He chooses some and not others. The world yells, "That's not fair!" They hate Christ. We do not get to pick and choose the doctrines we like. Many profess different doctrines; Rome, Mormons, Jehovah Witnesses, Campbellites. The list is endless. Yet these groups claim the name of Christ while they deny Christ's gospel.
To hate Jesus is to hate the Father. We cannot say, "I like Jesus but I do not like the God of the Old Testament." Jesus does not give us that option. He has said He has come in the Father's name. (John 5:43;6:38) His doctrine is the Father's doctrine. (John 12:50)
Jesus' works proved His divine nature. Jesus did not ask us to have a blind faith. If He had not proven He was the Messiah the Jews' unbelief would have been excusable. If Christ had not shown His divine nature the world's rejection of Him would be excusable. But the world believes other things with less evidence. They believe in astrology, Buddhism, Brahman, Mohammad and Big Foot with less evidence. Why? The world hates God. (Romans 3:11) Nothing is more contrary to reason than to hate God.
But if you ran a survey I would guess very few would confess to hating God. Almost all would say they love or at least like God. But Christ said "If anyone loves me, he will keep my word" (John 14:23a) Opponents to the Gospel come from everywhere, even from within the church. Christ explained the Gospel's value is not diminished by its opponents.
Christ does not leave us on our own. He sends a helper, the Holy Spirit. Christ explained the world cannot shake our faith if our testimony rests on the Holy Spirit.
Christ explained when the Holy Spirit comes, He does not come for personal enjoyment. The Holy Spirit comes so the disciple could withstand the assaults of the world. The Holy Spirit comes to aid in carrying Christ's message. The Holy Spirit is not so you can have your best life now.
Here we see how faith is by hearing. (Romans 10:17). It is more than hearing words spoken. It is the Holy Spirit who makes faith certain.
If we believe preaching alone produces faith, we do not understand the darkness of the human soul. But the other extreme is not true either. There are fanatics who scorn preaching. They speak about secret knowledge received by some mystical means.
To strengthen our faith we do not try harder. We rely on preaching of the word, prayer, the study of scripture and the Holy Spirit to strengthen our faith.
Christ told His disciples about the coming tribulation to prepare them to resist the attack. They were going to be thrown out of the synagogue. This was no minor issue. They were labeled evil and wicked. Believers continue to suffer when proclaiming Christ's doctrines. Being banished from the synagogue did not place the disciples outside the Kingdom of God.
But Christ reminded His disciples the reason they would be ostracized is that those who ostracize them do not know Him. Christ does not excuse them for their ignorance. Rather He told the disciples this to embolden them.
When He told the disciples to remember what He had told them. He instructed them to first learn the His doctrines. Second, the disciples were to recall and practice those doctrines. Lastly, Christ taught the importance of His predicting future events.