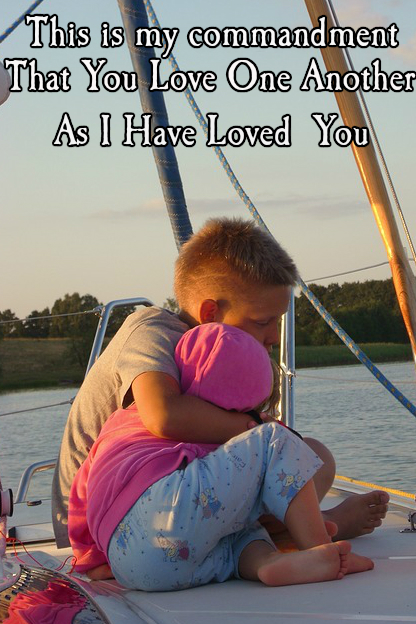 "I am the true vine, and my Father is the vinedresser. Every branch in me that does not bear fruit he takes away, and every branch that does bear fruit he prunes, that it may bear more fruit. Already you are clean because of the word that I have spoken to you. Abide in me, and I in you. As the branch cannot bear fruit by itself, unless it abides in the vine, neither can you, unless you abide in me. I am the vine; you are the branches. Whoever abides in me and I in him, he it is that bears much fruit, for apart from me you can do nothing. If anyone does not abide in me he is thrown away like a branch and withers; and the branches are gathered, thrown into the fire, and burned. If you abide in me, and my words abide in you, ask whatever you wish, and it will be done for you. By this, my Father is glorified, that you bear much fruit and so prove to be my disciples. As the Father has loved me, so have I loved you. Abide in my love. If you keep my commandments, you will abide in my love, just as I have kept my Father's commandments and abide in his love. These things I have spoken to you, that my joy may be in you, and that your joy may be full.
"This is my commandment, that you love one another as I have loved you. Greater love has no one than this, that someone lay down his life for his friends. You are my friends if you do what I command you. No longer do I call you servants, for the servant does not know what his master is doing; but I have called you friends, for all that I have heard from my Father I have made known to you. You did not choose me, but I chose you and appointed you that you should go and bear fruit and that your fruit should abide, so that whatever you ask the Father in my name, he may give it to you. These things I command you so that you will love one another.
Understanding And Applying the Text
Many have abused the parable of the vine by stretching and adding to it. The first thing to understand is, this is a parable. We are not to examine every minute property of vines and branches. There is no hidden meaning about vines and branches. What is the clear and obvious teaching? We are to satisfy ourselves with that. First, Christ's tells His disciples they had no power to do good apart from Him. Second, while they were rooted in Him, the Father dresses and prunes them. Third, The Father removes unfruitful branches. Then, He throws them into the fire. Fourth, No one bears fruit unless they are grafted into Christ.
Jesus points out to the disciples how the Father prunes us. The Father prunes us with doctrine. "You are clean because of the word that I have spoken to you." That is why doctrine is important. Perhaps you heard (or said), "I love Jesus isn't that is enough." We are to know proper doctrine. Jesus said,"If you love me, you will keep my commandments." (John 14:15) We cannot know His commandments unless we know doctrine. God uses doctrine to mature and prune us so we bear more fruit.
Christ exhorts the disciples to abide in him. He is telling them to be careful and remain in the grace they received. And all who abide in Him will bear fruit. What does "bear fruit" that mean? Paul tells us in Galatians. Fruit include things like love, joy, peace, patience, kindness, goodness, faithfulness, gentleness, self-control. Those are the attributes we are to show.
Without Christ, we can do nothing. That means even when the sinner exhibits love or kindness it is only by the common grace of God. There are those who try to lessen the impact of Christ's words. Arminians claim we must accept Christ. Arminians do not believe salvation is not by Christ alone. We acceptance is the determining factor. Rome claims salvation comes when we add to God's grace with our works. Both Armenians and Rome admit God's grace assists us. But we are ultimately responsible. Christ said we can do nothing without Him. Nothing is not a little bit of something. Both Rome's and Arminius' doctrines claim we must add to God's Grace.
Christ went on to say, anyone who does not abide in Him will suffer separation and punishment. Some ask about hell. The question is usually like this, "Is Hell separation from God?" The answer is yes. I then see a sigh of relief. That signals they do not understand the impact of that statement. Hell is also punishment. Christ uses fire more than once when He talked about hell. Here again, He said not only will there be separation, there will be fire. The sigh of relief is unwarranted.
Christ said the Father will cut off some branches. As a result, many worry about losing their salvation. There is no need to worry. Christ loses none of those He redeemed. (John 6:39,10:27-29; Philippians 1:6) Christ said this to explain why many seem to fall away. We judge by appearances. The church is the body of Christ. There are many in the Church who are not part of the body of Christ. (1John 2:19; Matthew 7:23,15:8). Christ was referring to those. They attend church, appear to do good, but have never trusted in Him alone for their salvation.
But, some of the elect feel cut off from the nourishment of Christ's love. That is why Chris says, "If you abide in me, and my words abide in you, ask whatever you wish, and it will be done for you." There is a solution. We need to ask for nourishment from God. He promises He will grant our desire.
The prosperity gospel heresy misuses and abuses this promise. Christ did not give us permission to ask for anything that would suit our fancy. Men have foolish and sinful desires. Those who claim a prosperity gospel read only the promise and ignore the condition. "If you abide in me, and my words abide in you…." Christ limited the promise to God's pleasure and will. Christ went on to say we glorify the Father by asking. And He is further glorified by fulfilling the request.
Christ commanded the disciples to abide in His love and keep His commandments. Some concluded God's grace has no effect unless we do something. i.e. keep His commandments. They conclude God's saving grace only extends to those who keep His commandments. It extends to them only because they keep His commandments. To reach this conclusion the must ignore rest of scripture.
God does not contradict Himself. The effect of God's grace does not depend on our obedience. (Acts 13:48; Romans 3:10-11, 9:10-13. 9:15, 9:21; John 3:16-18; 6:44; Ephesians 1:3-6; 2:1, 2:10) Praise God for that! Otherwise, we would all remain condemned.
Christ gave us a pattern to follow. "Just as I have kept my Father's commandments and abide in his love." We are to love Christ and obey His words as He loved the Father and obeyed the Father's commands. We are confident in this hope, His Spirit forms us daily to be better and better so we can follow his commands. The joy Christ mentions comes from peace with God. This belongs to everyone who God has justified by His free grace. Christ told His disciples this so Christ's joy could be their, and our, joy.
Christ kept telling His disciples to keep His commandments. He repeated this over and over. Well, what are His commandments? He summarized them for the disciples. They were to love one another. He repeated what he taught earlier. His will, more than anything else, is believers love each other.
As Christ had told the Pharisaical lawyer when asked for the greatest commandment. "You shall love the Lord your God with all your heart and with all your soul and with all your mind. This is the great and first commandment. And a second is like it: You shall love your neighbor as yourself. On these two commandments depend all the Law and the Prophets." (Matthew 22:37-40)
There is no greater love than to sacrifice one's self for another. In this Christ is told His disciples He loved them. For, He was about to die for them. Also, He explained the command to love. We are to live a life of sacrifice. This is not theoretical love. Christ's intention was not if the occasion occurs we are to die for others. It goes way beyond that. We live for others. We are to live our lives for each other. That is laying down our lives for each other. There is no greater love than to lay down your life for another.
Christ laid down His life for us. Not only did He die for us, He lived a life of perfect righteousness for us. Not only was did He take our punishment, He gave us His righteousness. There is no greater love than that. (Ephesians 5:2)
Jesus said, "You are my friends … no longer do I call you servants" But Paul says we are servants of Christ. Which is it? Are we friends or servants? The answer is, yes. We are servants. But Christ treats us and recognizes us as friends.
This passage ends with a clear statement that Christ chose us. We did not choose Christ. Only by God's grace are we save. It could not be any clearer. We had nothing to do with it. God chose us. We did not choose Him. We could not choose Him because we hated Him. (Romans 3:10-18; Psalm14:2-4; 53:1-3) It is only by God's grace He changed our heart. He chose us. Praise God!
But Christ went on. He chose us for a purpose. He chose us to bear fruit. He chose us to keep His commandment. He chose us to love Him. We show our love for Him by loving each other.