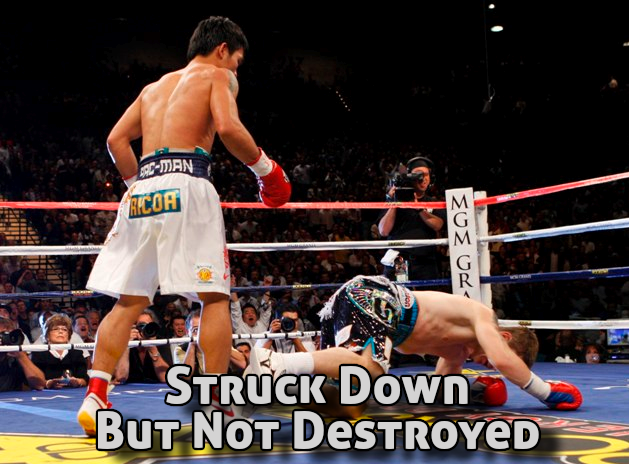 But we have this treasure in jars of clay, to show that the surpassing power belongs to God and not to us. We are afflicted in every way, but not crushed; perplexed, but not driven to despair; persecuted, but not forsaken; struck down, but not destroyed; always carrying in the body the death of Jesus, so that the life of Jesus may also be manifested in our bodies. For we who live are always being given over to death for Jesus' sake, so that the life of Jesus also may be manifested in our mortal flesh. So death is at work in us, but life in you.
Since we have the same spirit of faith according to what has been written, "I believed, and so I spoke," we also believe, and so we also speak, knowing that he who raised the Lord Jesus will raise us also with Jesus and bring us with you into his presence. For it is all for your sake, so that as grace extends to more and more people it may increase thanksgiving, to the glory of God.
So we do not lose heart. Though our outer self is wasting away, our inner self is being renewed day by day. For this light momentary affliction is preparing for us an eternal weight of glory beyond all comparison, as we look not to the things that are seen but to the things that are unseen. For the things that are seen are transient, but the things that are unseen are eternal.
Observation
Paul had a treasure in jars of clay.
The Gospel is a treasure.
The Gospel belongs to God.
The Gospel does not belong to Paul.
Paul was greatly afflicted.
Paul was under a lot of pressure.
Paul was confused.
Paul was driven to a point where he lost hope.
Even though Paul was persecuted and beat he was not broken.
Paul was not forsaken by God.
Paul carried within him the death of Jesus.
Carrying the death of Jesus caused the life of Jesus to be manifested in Paul.
Paul and his companions were always facing death for the Jesus sake.
Paul and his companions manifested the life of Jesus in their body.
Death was working in Paul.
Life was working in the Corinthians.
Both Paul and the Corinthians had the same spirit of faith.
Paul spoke about the gospel because he believed the gospel.
The Father who raised Jesus will raise us from the dead.
The Father will bring us into the His presence.
For the Corinthians' sake their spirit of faith increases in thanksgiving.
As grace goes to more people the Corinthians' spirit of thanksgiving increases.
The spirit of thanksgiving increases the glory of God.
Paul was not discouraged.
Physically we are wasting away.
Outwardly we are wasting away.
Inside we are renewed daily.
The afflictions we endure on earth prepare us for the weight of glory.
Paul was looking forward to things that could not be seen.
The things that can be seen are temporary.
What is eternal cannot be seen.
Interpretation
At the beginning of chapter 3 Paul labors the point that the reason God chose him to preach the gospel to the Corinthians does not lie in Paul. The reason lies in God. God could have used the neighbor's dog if He wanted to do so. At the opening of this passage Paul builds on that thought.
Paul is simply a clay vessel. An ordinary clay jar if you will. What is valuable is what not the jar itself but the contents of the jar.
When we place something in a jar that is of great value the jar then becomes valuable. The jar is not valuable in and of itself. It is valuable because of what it contains. The contents make the jar valuable.
Try as we might. There is no value intrinsically in us. We are valuable only because of what we contain. I can buy a mason jar online for less than $1. But if I fill in it with precious gems, that jar may be worth millions. Not because the mason jar is anything. But because of what it contains.
The treasure which Paul contains is the gospel message along with the new covenantal power of the Holy Spirit.
Paul, the greatest evangelist of all times, suffered physically, mentally and emotionally. Paul suffered what appeared to be defeats are evidence that he did not have the ability to strengthen himself. Paul understood that the ability to be struck down and yet not destroyed, to not despair when perplexed comes from Christ not from within himself. It is through Paul's inability. Paul sees his suffering as an opportunity for God to demonstrate His power. Paul sees his suffering as a way to follow Christ in Christ's suffering and death.
Paul's ministry meant the he would always be marked for death. The Corinthians were not under the same persecution. And because they had the gospel, they were made alive. That is why Paul can say, "So death is at work in us, but life in you."
God raised Jesus and has promised to raise us. Believing that, we can speak and tell others about this good news. What we believe affect what we say. As the gospel is heard by more and more people thanksgiving to God and praise to Him increases. God's purpose in our salvation is to bring glory and praise to Him.
When Paul says our outer self is wasting away, this is more than our physical bodies. It also refers to our sanctification. Our old fallen nature is falling away. It is being replaced by a new self, a new creation. We are no longer human beings. We are human becomings.
Therefore, the troubles Paul mentioned, afflictions, confusion, persecution, being struck down, carrying death within our body, are all temporary. Paul calls them light and momentary. This is quite a contrast to the way we normally think of things like that when they happen to us. We do not call then light. We do not view they are momentary. But when compared to the weight of eternal glory, they are insignificant.
Paul concludes this passage with what will the theme of his letter. That which is unseen is most real. That which is seen is like only a vapor.