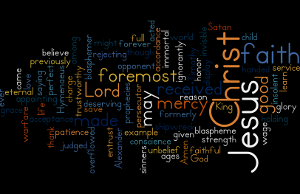 I thank him who has given me strength, Christ Jesus our Lord, because he judged me faithful, appointing me to his service, though formerly I was a blasphemer, persecutor, and insolent opponent. But I received mercy because I had acted ignorantly in unbelief, and the grace of our Lord overflowed for me with the faith and love that are in Christ Jesus. The saying is trustworthy and deserving of full acceptance, that Christ Jesus came into the world to save sinners, of whom I am the foremost. But I received mercy for this reason, that in me, as the foremost, Jesus Christ might display his perfect patience as an example to those who were to believe in him for eternal life. To the King of the ages, immortal, invisible, the only God, be honor and glory forever and ever. Amen.
This charge I entrust to you, Timothy, my child, in accordance with the prophecies previously made about you, that by them you may wage the good warfare, holding faith and a good conscience. By rejecting this, some have made shipwreck of their faith, among whom are Hymenaeus and Alexander, whom I have handed over to Satan that they may learn not to blaspheme.
Observation
Christ gave Paul strength.
Christ judged Paul faithful.
Paul thanked Christ for judging him faithful.
Paul thanked Christ for appointing him an apostle.
Paul used to be a blasphemer, persecutor, and insolent.
Paul used to be an opponent of Christ.
Paul received mercy.
Paul acted as an opponent of Christ because of ignorance in unbelief.
God's grace overflowed Paul with faith and love.
Faith and love are in Christ Jesus.
Christ came into the world to save sinners.
Paul considered himself the foremost of sinners.
Paul received mercy so Jesus Christ could display his perfect patience.
Christ displayed his patience and mercy toward Paul as an example to those who would believe in him.
God is the King of the ages.
God is immortal.
God is invisible.
God is the only God.
Timothy had prophecies made about him.
Paul entrusted Timothy to wage good warfare.
Timothy was to wage warfare while holding on to the faith and maintaining a good conscience.
Some had wrecked their faith by rejecting the faith.
Paul calls out two people by name who had wrecked their faith.
Paul handed the two people over to Satan.
Paul handed over the people to Satan so they would learn not to blaspheme.
Interpretation
Paul uses his own experience to demonstrates that redemption is all due to Christ. Paul could not take pride in what he had done. While He was deep in sin and rebellion, Christ reached down and saved him. Paul had murdered Christians for just for being Christian. He blasphemed the name of Christ. From a worldly standpoint, he was beyond redemption. Yet Christ redeemed him.
We are never beyond the Christ's redemption. Even at the end of this passage Paul says he has turned over Hymenaeus and Alexander to Satan. Why? Had Paul lost all hope for their souls? No! Paul says he turned them over, "that they may learn not to blaspheme." He turned them over to Satan for their salvation.
There are many people who will say with Paul they are terrible sinners. They do this to show false piety. They show a false humility. Their not only boast, but steal the Lord's glory. They claim what belongs to Christ for themselves. Paul's intention in reminding them of his sin is to show the glory and mercy of God.
Paul thanks Christ not only for His mercy but for placing him in service to Christ. Paul was in the ministry not because he was faithful. Paul's faithfulness was not the cause of his appointment. If it had been the source, Paul would have something to boast about. As a result, Paul saying he was the worse of all sinner would have made him hypocritical. He would have received his apostleship because of his own merit. He would now be exhibiting a false humility.
Paul says he received mercy because he acted in unbelief because of ignorance. He appears to insinuate that unless you can plead ignorance there is no hope of salvation. But, A careful examination of the sentence structure reveals that is not the case. Ignorance is not Paul's what Paul is talking about. It was unbelief.
Ignorantly modifies unbelief in the sentence. Paul does not say ignorance and unbelief. He says ignorance in unbelief. This is the translation; "ignorantly in belief" in the ESV, NASB, NKJV, and KJV. I believe the NIV translation is incorrect. It translates it as "ignorance and unbelief." This mistranslation can have a serious adverse effect on one's theology. As a result, it affects one's view of their own salvation.
"Unbelief" limits Paul statement to what is often referred to as the first table of the law. The first table of the law is the first four commandments. When we violate the first tablet of the law, we sin against the Holy Spirit. We are in direct opposition to God.
Paul states the purpose of Christ's coming to the world is, to save sinners. The western culture tries to make Christ out to be less. The world tries to define him as a revolutionary or a seeker of social justice. The world is more comfortable thinking of Jesus as a moral teacher and an example setter. If we do that we do not need to face our sinfulness. But, Jesus came into the world to save sinners. That is why the Father sent the Son. Praise God!
Christ saves sinners. We are not saved by our worthiness, our confidence or anything else that is in us. It is Christ who saves and Christ alone.
Paul calls himself the foremost of sinners. Yet he only erred through ignorance of sound doctrine. Paul was blameless in the eyes of men. He was a Pharisee of Pharisees. Here, Paul shows us how insidious the crime of unbelief actually is. We ought to pay close attention to this passage. Men may see us as blameless, upright and innocent. We may even think of ourselves that way. But if we do not believe God we are sinners. If we oppose the doctrine of the gospel God considers us hideous sinners.
Paul says he is exhibit A in demonstrating God's mercy. No one can doubt that they are pardoned if they approach Christ by faith. To do otherwise is a sin. This is the assurance of salvation.
Paul concludes the first paragraph of the passage with praise to God. His praise of God's grace swallows up any memory of his former life. But we still have a past. After we have new life in Christ, there may be those who say, "You hypocrite look at all you have done." To that, we can only say you are correct. Yet it is no long I who lives but Christ in me.
Paul reminds Timothy he is not is his position because by an accident. Paul did not just need someone to fill a position and Timothy happened to be available. No, God appointed Timothy to his position. So, Timothy is to wage war with courage. There is no greater comfort and joy than to know God has appointed us to what we are doing.
Paul uses the word warfare to let us know that it is a constant challenge to present the word of God. It is a constant battle to live a life of righteousness. This is true not only for believers. It is especially true for Christian teachers. They are to be the standard-bearers and leaders.
Paul tells Timothy to wage warfare by, "holding faith and a good conscience." The main things demanded of a teacher are these two things. A teacher is to hold true to the purity and truth of the gospel and apply it with a good conscience and zeal.
Paul mentions two people by name who had made shipwreck of their souls. The Alexander he mentions may be the Alexander mentioned in Acts 19:33.
He turns them over to Satan. This refers to excommunication. The purpose of excommunication is to bring the unrepentant to repentance. As Paul says so Hymenaeus and Alexander may learn not to blaspheme.