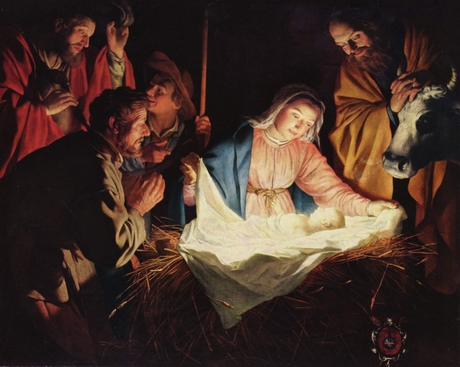 In those days a decree went out from Caesar Augustus that all the world should be registered. This was the first registration when Quirinius was governor of Syria. And all went to be registered, each to his own town. And Joseph also went up from Galilee, from the town of Nazareth, to Judea, to the city of David, which is called Bethlehem, because he was of the house and lineage of David, to be registered with Mary, his betrothed, who was with child. And while they were there, the time came for her to give birth. And she gave birth to her firstborn son and wrapped him in swaddling cloths and laid him in a manger, because there was no place for them in the inn.
And in the same region there were shepherds out in the field, keeping watch over their flock by night. And an angel of the Lord appeared to them, and the glory of the Lord shone around them, and they were filled with great fear. And the angel said to them, "Fear not, for behold, I bring you good news of great joy that will be for all the people. For unto you is born this day in the city of David a Savior, who is Christ the Lord. And this will be a sign for you: you will find a baby wrapped in swaddling cloths and lying in a manger." And suddenly there was with the angel a multitude of the heavenly host praising God and saying,
"Glory to God in the highest,
and on earth peace among those with whom he is pleased!"
When the angels went away from them into heaven, the shepherds said to one another, "Let us go over to Bethlehem and see this thing that has happened, which the Lord has made known to us." And they went with haste and found Mary and Joseph, and the baby lying in a manger. And when they saw it, they made known the saying that had been told them concerning this child. And all who heard it wondered at what the shepherds told them. But Mary treasured up all these things, pondering them in her heart. And the shepherds returned, glorifying and praising God for all they had heard and seen, as it had been told them.
And at the end of eight days, when he was circumcised, he was called Jesus, the name given by the angel before he was conceived in the womb.
Observation
Augustus was Caesar of Rome when Jesus was born.
Caesar Augustus required everyone in the Rome Empire to be registered.
This was the first time registration was required when Quirinius was governor of Syria.
There must have been other registrations since this was the first one under Quirinius.
Everyone went to be registered in their own town.
Joseph went from Nazareth in the Galilean region to the town of Bethlehem.
Bethlehem is in Judea.
Bethlehem is the city of David.
Joseph was a descendant of David
Joseph went with Mary to Bethlehem to be registered.
Joseph and Mary were not married yet. They were only engaged.
Mary was pregnant when they went to be registered.
While they were in Bethlehem Mary gave birth to her first born.
Mary's first born was a son.
Mary wrapped Jesus, her first-born, in swaddling cloths and laid him in a manger.
Jesus was laid in a manger because there was no room for Mary, Joseph and Jesus in the inn.
In the region where Jesus was born shepherds were tending their flock.
It appears to be night time when Jesus was born.
One angel of the Lord appeared to the shepherds and spoke to them.
The glory of God shone around the shepherds.
The shepherds were really afraid!
The angel told the shepherds not to be afraid because he had good news.
The good news the angel had was going to bring great joy.
The good news the angel had was for everyone.
The good news was, that day a savior was born.
The savior was Christ.
Christ is the Lord.
The angels called the Bethlehem, "the city of David"
The sign this actually happened would be that the shepherds would find the Christ wrapped in swaddling cloths and sleeping in a manger.
After the angel delivered the good news a bunch of angels appeared.
The rest of the angels appeared suddenly.
The rest of the angels were praising God.
The angles were saying "Glory to God in the highest and on earth peace among those with whom he is pleased!"
When the angels left the shepherds the angels went to heaven.
The shepherds decided amongst themselves to go to Bethlehem and see what the angels had told them.
The shepherds realized the Lord had allowed them to know what had happened.
The shepherds went quickly to Bethlehem
The shepherds found Mary, Joseph and Jesus.
When the shepherds found Jesus he was lying in a manger.
The shepherds told everyone there everything they had been told about Jesus.
There appears to have been more than Mary and Joseph and Jesus there when the shepherds arrived. Because, "all who heard it" seems to imply more than just the 3 of them.
Mary remembered what the shepherds said and thought about it.
Mary kept the memory of what the shepherds had said as treasured memory.
The shepherds return to their flock praising God.
The shepherds praised God for everything they had seen and heard.
What the shepherds had seen and heard was just like they had been told it would be.
Jesus was circumcised on the eighth day after His birth.
They named Him, Jesus, when he was circumcised.
Jesus was the name the angel had given before Jesus was conceived.
Interpretation
Joseph and Mary traveled to Bethlehem as unmarried couple. This must have been seen as quite scandalous. But it was no less scandalous than Mary becoming pregnant before they were wed. Why did Joseph take Mary to Bethlehem? Luke does not say. Luke only says it happened at a time when everyone was to be registered. The scripture only says, "And all went to be registered, each to his own town." There was no Roman requirement that everyone register in their ancestral home. In fact, it would make more sense to say that the Romans would require people register in the town where they were living, not an ancestral home. To require everyone to register in a town other than where they were currently living would have caused a tremendous turmoil in commerce and therefore taxes. And there is no archeological or historical evidence to support that all of the Roman Empire or even Judea was in that type of turmoil. The choice of Bethlehem, an ancestral home, must have been personal for Joseph. It could have been, taking his soon to be wife away from the scorn and ridicule of people in Nazareth. They must have thought her a whore. Joseph's thought process is pure speculation since the Luke does not say. It also could have been as simple as the tax rates were better in Bethlehem and Joseph was trying to save a little money. To give motive to Joseph as to why he went to Bethlehem is to miss the point. Luke does not mention Joseph's motive as to why he and Mary left home, and went to the place of their family roots. The reason Luke does not mention it is because it does not matter. They went to Bethlehem so that Mary would give birth to Jesus there. Joseph was led as a blind man, by the hand of God, to the place where Christ must be born. The human reasoning, i.e. Joseph's reasons, does not matter.
After Jesus is born, Luke mentions that Christ was laid in a manger because there was no place for them in the inn. We often miss the significance of this. Jewish law required hospitality and the giving of shelter to strangers and travelers. Innkeepers were considered land pirates they took people's money in order to give what God had commanded was to be given,a place to sleep, a meal and protection from the elements. Jesus, the Son of God, born to an unwed mother was even refused the hospitality required by God's law and was forced to be born at an inn. And then He was not even allowed inside the house but a stable. He was despised and rejected even at the time of his birth.
Christ's birth is revealed only to a few witnesses, shepherds, and in the dark of night. This does not appear to have been the most efficient of effective means. It certainly is not how I would have done it. It would have been more effective to let the regional leaders know, maybe the priests in Jerusalem or the at least the local Rabbi. God bypassed all the honorable witnesses available to Him and chose shepherds. We have to acknowledge "the foolishness of God is wiser than men" (1 Corinthians 1:25) God "emptied himself, by taking the form of a servant, being born in the likeness of men. (Philippians 2:7)
When the angels appeared to the shepherds, the angels were excited about what God was doing. But, did they know what was to happen to Christ 33 years later. If they did, would they have been so excited? I think they knew. And that is exactly why they were excited. This was the beginning of the end. God was redeeming His people. That is why the angles were so excited. The angels were saying to the shepherds, "Do you realize what God is doing for you? God has humiliated Himself and given up what is rightfully His to become a man. Do you realize what He has done!? For God to come as a earthly king would have been humiliating in itself. He created the universe. But he became like you, a poor and common working man. He receives no honor, no glory and this is God we are talking about. He is deserving of all glory and all honor. I don't think you realize what He has done for you and how good this news really is." We often talk about the humiliation of Christ at Easter and His suffering on the cross. But the significance of God humbling Himself and becoming a man we often miss.
When the shepherds found Jesus he was lying in a manager, a food trough. Thirty-three years later just before he was to die on the cross, Jesus would say, "Take, eat; this is my body." (Matthew 26: 26b) Even at Christmas God pointed to Easter.
What a night this was for the shepherds. It started as an ordinary uneventful evening and ended with them being witnesses to the coming of God in human form. God chose to reveal His glory to these shepherds not because of anything they had done. But so they could be witnesses. He did it to reveal His glory. Not only did God Himself come in human form, a common baby child. He revealed it to common men. That is the type of God He is. The high are brought down and the low are lifted up.
Application
We do not know what Joseph's motives were in moving to Bethlehem. But we do know God directed the action. God works through human will to accomplish His purpose. The idea that we can frustrate God's will is not only unscriptural it is totally absurd. As Joseph told his brothers in Egypt. "As for you, you meant evil against me, but God meant it for good, to bring it about that many people should be kept alive, as they are today." (Genesis 50:20) For the longest time in my Christian walk I was afraid I would do something or say something that would frustrate the will of God. I now am relaxed and assured that no matter what I cannot frustrate the will of God. God is not dependent on me. I am dependent on Him.
When the angels appeared to the shepherds they begin with thanksgiving and praises to God. The scripture tells time and time again that we were redeemed this purpose. We are to express with our mouths and our actions, our gratitude towards God. This is the reason God reconciled us to Himself through His Only Begotten Son. Merry Christmas!