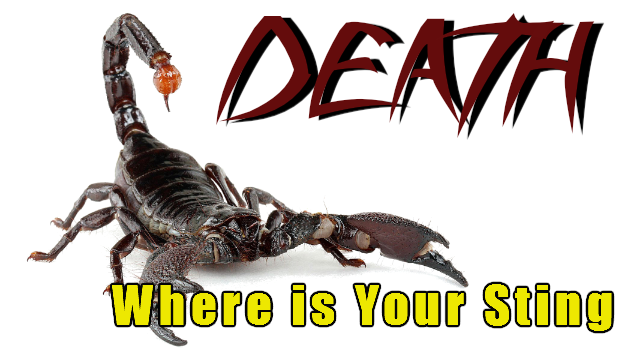 Behold! I tell you a mystery. We shall not all sleep, but we shall all be changed, in a moment, in the twinkling of an eye, at the last trumpet. For the trumpet will sound, and the dead will be raised imperishable, and we shall be changed. For this perishable body must put on the imperishable, and this mortal body must put on immortality. When the perishable puts on the imperishable, and the mortal puts on immortality, then shall come to pass the saying that is written:
"Death is swallowed up in victory."
"O death, where is your victory?
O death, where is your sting?"
The sting of death is sin, and the power of sin is the law. But thanks be to God, who gives us the victory through our Lord Jesus Christ.
Therefore, my beloved brothers, be steadfast, immovable, always abounding in the work of the Lord, knowing that in the Lord your labor is not in vain.
Observation
Paul is telling us about a mystery.

Not everyone will sleep.

Every Christian will be changed

The Christians that will not die and only changed will be changed very quickly.

The Christian will be changed at the last trumpet.

When the trumpet sounds the dead will rise.

When the dead rise, they will rise imperishable.

All Christians will be changed.

The body we rise with will be immortal.

When we put on immortality death will be defeated and meaningless.

Death's sting is sin.

The law is the power of sin.

God give us victory

God gives us victory through Jesus Christ.

Since we will over come death, we should be steadfast, immovable and always working for the Lord.

Our labor in the Lord is not in vain.
Interpretation
Up to this point Paul has argued two points. First there will be a resurrection from the dead.; second the nature of the resurrection, Now Paul goes more deeply into a description of the manner of the resurrection. He calls this a mystery because up to this point it had not been clearly revealed by any of the prophets.
What could Paul possibly mean when he says "We shall not all sleep". This appears to be a contradiction of what is said in Hebrews 9:27 that it is appointed to all men once to die. That is why Paul adds, "but we shall all be changed".
The obvious question is, what happens to those who are alive at the day of the Lord? Paul's answer is although not all will die they will be renewed. Mortality and corruption will be done away. It should be noted that Paul is speaking here exclusively about believers.
The conflict between what Paul says here and what is said in Hebrews is easily resolved. As a change cannot take place without doing away with the previous, the change is a kind of death. There is a death inasmuch as the corruptible nature is destroyed even though there is no sleep. There will be a sudden transition from corruptible nature to a blessed immortality.
All this will occur suddenly and quickly. Christ's advent will be sudden. The use of the imagery of a sound of a trumpet I believe is metaphorical. Just as a commander would sound a trumpet to communicate to the entire army, so Christ with His far sounding proclamation which will be heard throughout the whole world will summon all the dead.
"The dead will be raised imperishable, and we shall be changed." This is simply a restatement of what he has already said. Those who are dead will be incorruptible. And we will be changed to immortal. That is we both end up the same.
This passage proves we will rise in the same flesh we now carry with us but as Paul says with a new quality to it, incorruptible and immortal. If Paul had said this corruptible must be renewed the error of those who imagine that mankind will be furnished with new bodies would not have been so plainly and forcibly overthrown. However, Paul states that this corruptible shall be invested with glory, there is no room left for cavil.
"The sting of death is sin." It is only our sin that angers God. Take away sin and death will not be able to harm us. This is what Paul says in Romans 6:23, that the wages of sin is death.
The strength of sin is the law. It is the law of God that gives that sting of sin its deadly power. Not because it simply discovers our guilt but it increases it. In Romans 7:9 Paul teaches us that we are alive so long as we are without the law. We do not feel out own misery until the law brings us to the judgment of God.
Paul does not indite the law as being evil. The law is holy and just. It is not the creator of sin or the cause of death. Paul says whatever is there is of evil is the result of the depravity of our own nature. Therefore, we are the cause of our sin. Paul talks about the law here as the strength or power of sin because it executes the judgment of God.
But praise the Lord, Christ has conquered sin! By conquering sin He has purchased victory for us and has redeemed us for the curse of sin. (Galatians 3:13) Therefore even though we have not yet fully realized the benefits, we may already glory in them.
Even though we carry within us the remains of sin, sin does not reign in us! Yes it stings us. But it is not a fatal sting. It does not penetrate the soul.
Because of the permanence of life our labor is not in vain. A reward is reserved for us with God. This is the exclusive hope that encourages and sustains believers. Paul exhorts us to remain steadfast, rest on a firm foundation, a better life is prepare for us in heaven.
An Application
Because we have an assurance of the resurrection we can face any obstacle problem or difficulty with courage. We know that we will live again. We will be resurrected with a glorified body. We will have a body without pain, sickness, infirmity and sin. Therefore we can face anything the world hurls at us because death has lost its sting.